1st Meeting
Perugia, Italy, 24th-25th May 2002 - ABSTRACTS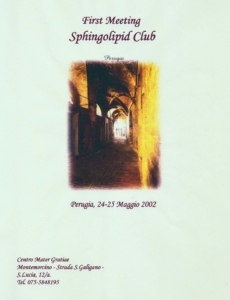 Sphingolipid Metabolism and Cell Regulation 
Yusuf A. Hannun
Department of Biochemistry and Molecular Biology, Medical University of South Carolina, Charleston, South Carolina, USA
Studies over the past 2 decades have underscored the importance of specific sphingolipids such as sphingosine, ceramide, and sphingosine phosphate as bioactive molecules involved in diverse cellular responses. As a consequence, many of the enzymes of sphingolipid metabolism have emerged as regulated components in signaling and cell regulatory pathways. The direct targets for these sphingolipids (such as receptors, kinases, and phosphatases, have also emerged as important signal transducers.
More recent studies have introduced another layer of complexity to the understanding of bioactive sphingolipids which derives from the compartmentalized metabolism and action of these lipids. In our studies, we find that the action of ceramide is dependent on the specific compartment of metabolism and generation. One emerging specific pathway connects de novo synthesis of ceramide to activation of the protein phosphatase PP1 and the dephosphorylation of nuclear SR proteins. This serves as a prototype "singling module". The versatility of sphingolipid metabolism and its interconnection raise the possibility that these individual modules may allow for "integration" of cell responses. This talk will discuss these specific examples of ceramide function and the emerging concepts of sphingolipid metabolism and function.
Can the nuclear sphingomyelin regulate the fate of the cell?